SMC Capital China, a subsidiary of Hong Kong-based Simon Murray Group, signed an agreement with Khorchin Rider Horse Co Ltd on Monday, the largest private enterprise in China's horse breeding industry to form a joint venture, with the aim to develop the horse industry company into a global leader in the area.
The total investment into Rider exceeded 120 million yuan ($18.9 million), and SMC Capital China injected 60 million yuan in the joint venture- Inner Mongolia Rider Horse Industry Co Ltd, as their first round of investment strategy.
"The second round of investment concerning the program will be 200 million yuan, and it's likely to happen next year," said San Eng, founding partner of SMC Capital China, adding that he's very confident about the prospect of the cooperation.
As a private equity firm, SMC Capital China has always given much attention to consumption upgrades in the country, and they think that China has tremendous potential for horse industry's development.
As one of the sunrise industries, the recreational horse sector's market scale is less than $1 billion in China to date, but its annual growth rate is more than 20 percent, according to the industry statistics and SMC's research.
"There has been remarkable growth in China's horse industry since the 2008 Beijing Olympics," said Hamilton Ty Tang, managing director of Simon Murray Co Ltd, adding that the number of equestrian clubs increased from less than 100 in 2007 to between 700 and 800 nowadays.
"Our company mainly focuses on three sectors in the horse industry, and they are horse breeding, horse feed and recreational horse clubs," said Lang Lin, 郎林 founder and chairman of Khorchin Rider Horse Co Ltd, which was established in 2006.
He added that currently horse breeding business generated the most profits, but he cannot give the detailed figures of the business at the moment.
Compared with other rivals in the business in the nation, Lang said that the in addition to the years of breeding experience and excellent management team, the low cost of feeding a horse is one of their biggest advantages.
"For example, the monthly cost for keeping a horse would reach between 4,000 and 5,000 yuan in Shanghai, while in Rider, the figure falls to about 1,000 yuan," Lang said, adding that the geographic location of their company, local government's support and their own management mode make this happen.
"Before we decided to invest in Rider, we've conducted a lot of market research and find that many horse industry clubs or enterprises are losing money, but Rider's performance grew significantly from last year," said San Eng.
"Our horse sales witnessed a double growth this year from that of 2011, which can be seen as an indicator of the industry's development. Also the boom of the industry is connected with China's economic development," said Lang.
"The industries involving people's life-style consumption upgrades are growing rapidly in China. After the flourish of golf and wine investments in the past years, the horse industry is entering its age in China,"said Kevin Ren, investment director of SMC Capital China.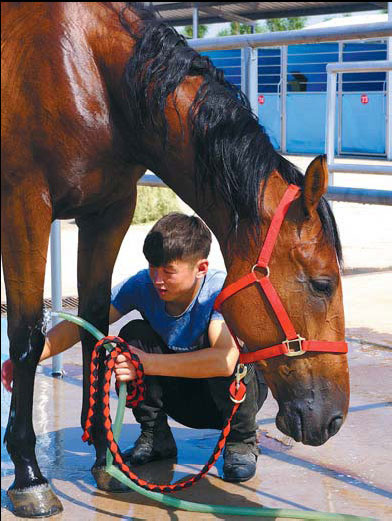 A rider washes his horse after a race in Ordos, Inner Mongolia autonomous region. SMC Capital China signed a deal with Khorchin Rider Horse to develop the horse industry. Zhang Yue / Xinhua
For full details, please click 
here
 for original article.