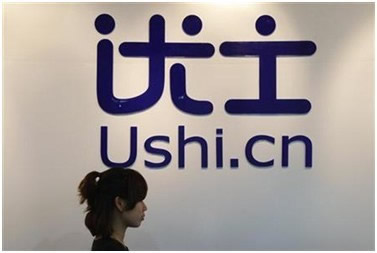 An employee is seen at Ushi Office in Shanghai
In a country where being connected is seen as crucial, Ushi, China's answer to LinkedIn, expects explosive growth over the next few years in the world's largest Internet market.
The professional-social networking site plans to have 10 million users in two years from the current 300,000, and aims to raise $5 million by the end of June, Dominic Penaloza, Ushi's chief executive, told Reuters in an interview on Monday.
"We're aiming to ultimately serve a very large portion of China's 40 million Internet users who are white collar or entrepreneurs. Call it 10 million in two years," said Penaloza.
"There's more proportion of Chinese who will only do business with people they have met before and people who have a mutual friend," said the Filipino-Chinese who grew up in Canada.
Venture capitalists and private equity funds have flocked to Chinese Internet firms, with U.S. IPOs of companies such as Youku and Dangdang surging as they market themselves as the YouTube and Amazon of China.
The growth is being fueled by China's Internet industry which has more than 450 million users.
Ushi, which launched in October, is backed by Milestone Capital, U.S.-based Richmond Management, Li & Fung private equity and Simon Murray & Co.
The firm competes with Tianji.com, another social-networking site that caters to professionals. Tianji, which was founded in 2005, is now part of France's Viadeo.
Tianji aims to have 10 million users by the end of the year and to start monetizing the website this year, its founder Derek Ling told Reuters separately.
The user base of Ushi, which means "outstanding professionals" in Chinese, doubled to 300,000 from 160,000 in about 60 days in March and April, Penaloza said.
Professional social-networking-site LinkedIn has a small presence in China and is one of the few foreign social-networking-sites to still have access to Chinese Internet users. Twitter and Facebook are blocked in China over censorship concerns.
LinkedIn shares more than doubled in their public trading debut this month, evoking memories of investors' love affair with Internet stocks during the dot-com boom of the late 1990s.
Like LinkedIn, Ushi's website (www.ushi.cn) has features that allow users to add connections and send messages but it is currently in a by-invitation phase. Penaloza said the firm plans to open the website to the public by the end of the year. Ushi is already monetizing users through the presence of Ushi coins which can be bought with real money.
Ushi's key difference from LinkedIn is that it focuses on offline events as Chinese people greatly value face-to-face meetings and are generally hesitant to do business with people they do not know.
"If you ask them to pay $25 equivalent in Reminbi for a three-hour networking party they would not hesitate to pay, they would line up to pay. Chinese people are like that in general," Penaloza said.
Ushi is banking on the value of "guanxi," which means connections in Mandarin, in doing business in China to make money. The firm charges Ushi coins for introductions outside your immediate circle.
The Shangai-based firm raised 10 million yuan ($1.54 million) in its initial round of fundraising.
About 5 percent of Ushi's current users are chief executives.
Last week, LinkedIn told reporters in Beijing it will seek opportunities in China to capitalize on its massive user base even though it sees the market as complicated.
Being called the LinkedIn of China has its benefits as it offers the general public a quick reference to the type of services the firm offers, Penaloza said.
"It's kind of like LinkedIn and inspired by LinkedIn but it is not the same. Ushi will work better for Chinese people because it is made in China, made by Chinese, made for Chinese and that's a huge difference," said Penaloza.
($1 = 6.493 yuan)
Click here for video interview of Ushi CEO Dominic Penaloza by CCTV